Annual Report 2021
What do you see here?
At the production plant in Ekenäs, Finland, the WC ceramics are sponged after casting before being transferred to the drying chamber.
Editorial
We look back on an extremely successful, but from an operational point of view very challenging financial year and are convinced that the Geberit Group is very well equipped and positioned to meet current and upcoming opportunities and challenges.
Albert M. Baehny,
Chairman of the Board of Directors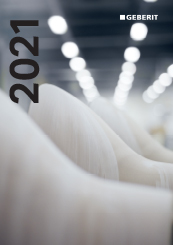 Interested in an in-depth look behind the scenes of Geberit with gripping stories and photos?
Then order our annual chronicle.
Order Geberit chronicle