A new media temple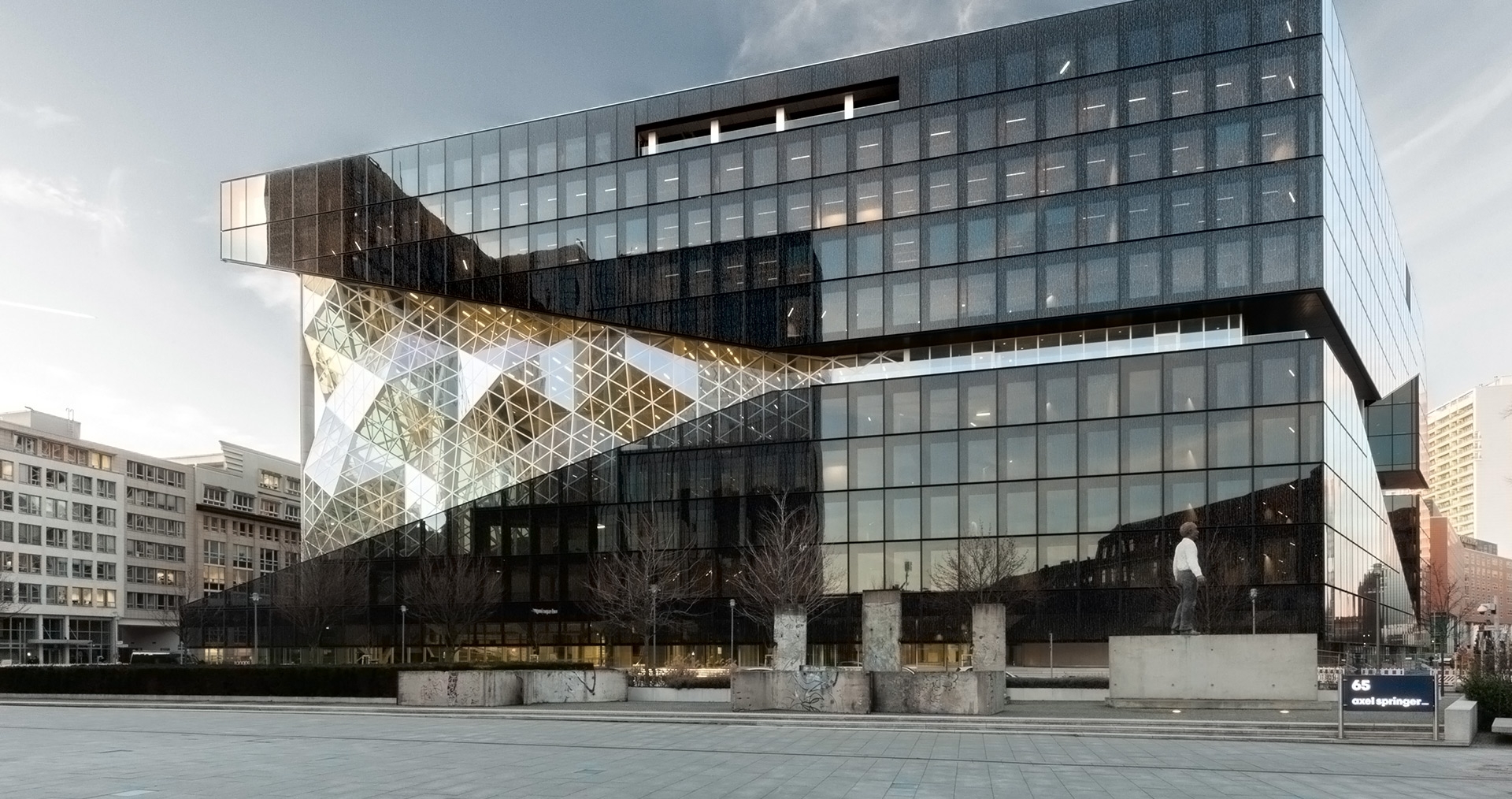 The media and technology company Axel Springer is making an architectural statement in Berlin. In the city's former newspaper district, the imposing new building rises into the air. Geberit is represented here both in front of and behind the wall.
New Axel Springer building
Building owner: Axel Springer SE
Architect: OMA, Rotterdam
Completed: October 2020
Geberit know-how:
Silent-db20 drainage system
Silent-PP drainage system
Geberit Mapress Stainless Steel and Carbon Steel supply system
HDPE drainage system
Pluvia roof drainage system
Duofix installation system
Renova and Renova Comfort toilets
Sigma10 and Sigma30 actuator plates
RS90 Plus DIN fire protection sleeve
In the heart of Berlin, a modern office complex is attracting attention – the new Axel Springer building. The media company publishes newspapers such as "Bild" and "Die Welt". Spread over an area of 52,000 square metres, the building is home to over 3,000 staff working in TV studios, newsrooms and catering. The building has 13 floors, two of which are underground.
The building cube was designed by Dutch architect Rem Koolhaas and is split into a north and south wing. In the 45-metre-high atrium, a connecting bridge picks up the course of the Berlin Wall in the exact place it used to stand. While the lower floors are terraced up towards the centre of the building, the upper five floors are suspended from the roof structure and project into the interior.
In front of and behind the wall
Geberit products are installed in front of and behind the wall at this new landmark. Andreas Frischmuth, project manager at HVT Haus- und Versorgungstechnik GmbH, comments on the sanitary installations as follows: "Considering the short construction period and the inner-city location, the logistical effort for material deliveries was enormous. We were on site with up to 35 installers at once. Time was of the essence and we were building up to five floors in parallel."
The reliability of the products is thus critically important. Geberit is on hand to ensure things run smoothly throughout the building, from the supply system for the drinking water and heating systems to the sound-insulated drainage system, all the way through to the roof drainage system. The installation systems and some of the ceramic appliances are also from Geberit.