Sandie Perrier first studied physics and chemistry in France. After turning her attention to ceramics, she explored traditional ceramics production in Spain before joining the Geberit ceramics plant in Portugal.
Sandie Perrier likes to get down to business right away, face challenges and learn as much as she can. She is thus a perfect fit for the team at the ceramics plant in Carregado, Portugal, which became part of Geberit in 2015 following the acquisition of the ceramics business. Since 2020, Sandie Perrier has been responsible for the industrial production of new products in her position as Project Leader Product (PLP). This role is a new one at the ceramics plants.
From theory to practice
Can a specific WC model actually be produced with the infrastructure that is in place? Are the required raw materials available? Can the plant keep to the budget and is it able to manufacture the desired volumes? The PLPs are on hand to make sure questions like these are addressed while checking the feasibility of a product on the production line.
The fact that Sandie Perrier was unable to fall back on existing experiences and processes did not put her off in the slightest. "This new role motivated me enormously," explains the 30-year-old.
The new role motivated me enormously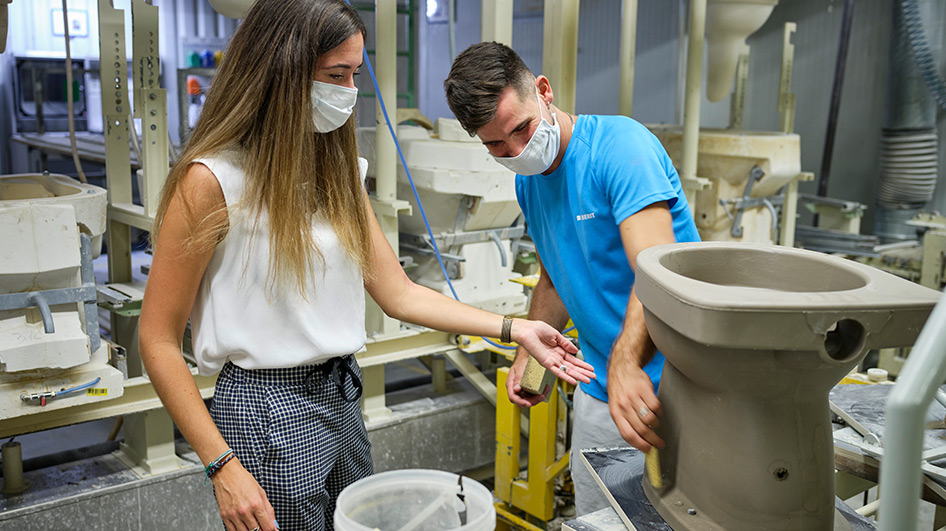 A simple answer
The French native travelled to the Geberit ceramics plant in Carregado in 2015 on a six-month internship as part of her Master's diploma. She quickly became fluent in Portuguese – and had the opportunity to stay. Her first position was as an engineer, then team leader of three other engineers, before she became PLP in 2020.
A new job in an unknown country? Not a problem for Sandie Perrier. "I'm often asked why I went to work abroad and what I am doing there," she explains. Her answer is a simple one: "I'm a curious person. For me, it is a pleasure to discover new languages and cultures."