Marion Glückler started out as an apprentice at Geberit. Today, 16 years later, the Logistics Manager is in charge of three departments at the logistics centre in Pfullendorf.
Dealing with the unexpected on a daily basis is what drives her on. "I never know what tomorrow will bring. As a result, my everyday work is exciting," Marion Glückler explains. Since 2017, the 32-year-old Logistics Manager has been responsible for three departments at the logistics centre in Pfullendorf.
The unforeseen, where solutions have to be found quickly and spontaneously, is the order of the day here. This includes the preparation of material with fluctuating order quantities, the dependence on technology, and the additional challenge of dealing with the risks of illness in the team during the pandemic. "Yes, it was a stressful time," admits Marion Glückler, looking back. "But it was also a very valuable one. It brought us together as a team."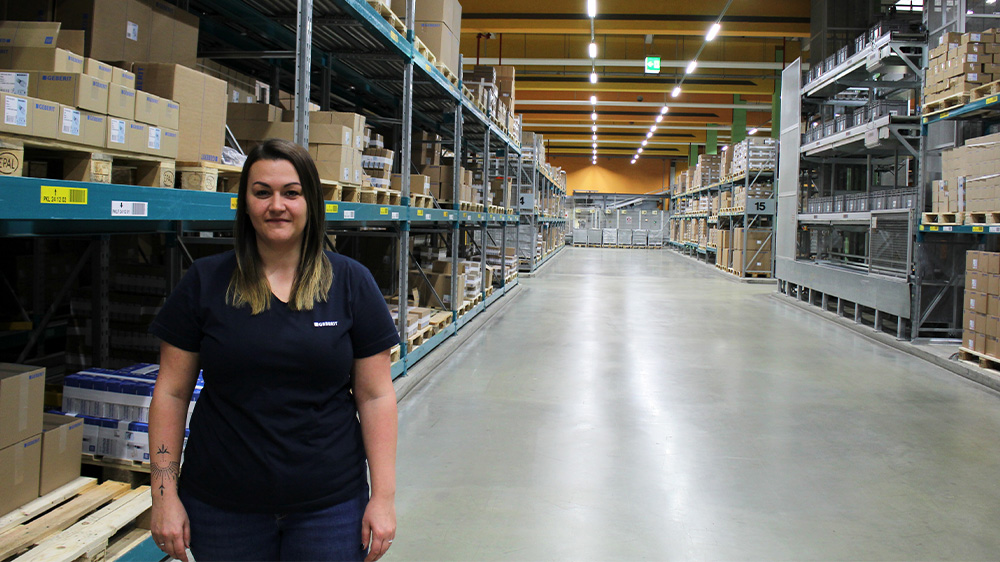 From apprentice to manager
Marion Glückler has been working for Geberit since 2007. Then aged 16, she started her apprenticeship in warehouse logistics. Later, she continued her education until she received her master's degree: "I am very happy that it was possible to take this career path with Geberit," she says. "Today, I have arrived professionally at where I want to be."
Geberit is also present at home
Geberit also has a share in Marion Glückler's happiness outside of work too. She met her husband when he was a lorry driver transporting material from Givisiez in Switzerland to Pfullendorf. And although he now works as a machine operator for another company, "Geberit remains a fond memory for him too," she says with a smile.