Always the right spare parts on hand
Geberit guarantees a spare parts availability of 25 years for all products behind the wall. Employees from a wide range of areas play an important role in keeping – and often even exceeding – this promise.
Millions of concealed Geberit cisterns are in use across Europe, including many from the 1970s and 1980s. The demand for spare parts such as fill or flush valves is thus relatively constant, as these are affected by limescale and other deposits as the years go by. However, a leaky tank is rare. It is thus worth repairing a valve on a cistern – even one that has been in action for more than 40 years.
New technology for older products
Replacements can be procured quickly as the latest valves are usually compatible. "When we develop a new fill or flush valve, the designers make sure that it is backwards-compatible," explains Rolf Kuster, Head of the Flushing Systems product line. This means that all of the concealed cisterns manufactured by Geberit can be fitted out with new valves. "A complete refit is only needed on very old models, and even then, this can be carried out relatively easily," explains Rolf Kuster.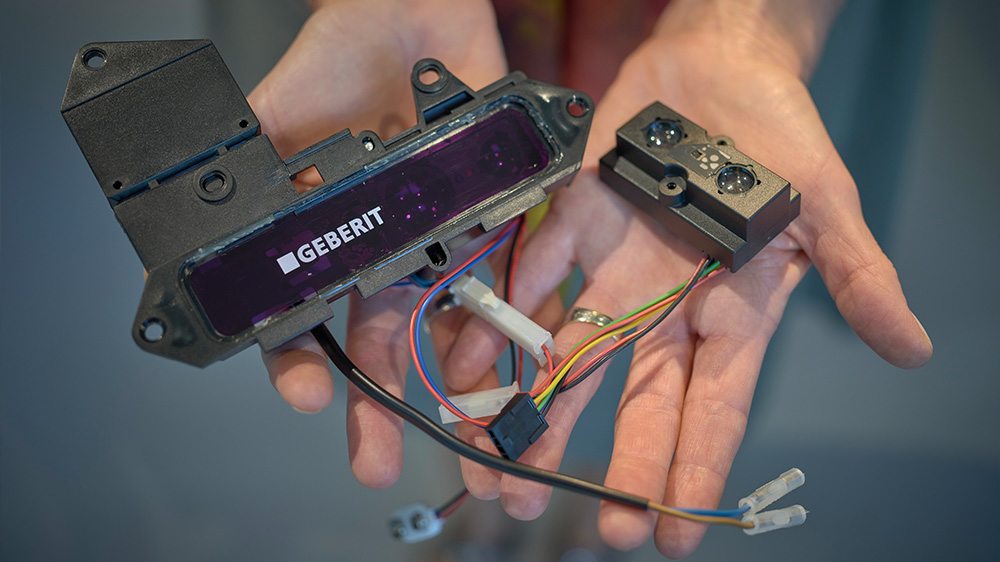 Short-lived electronics
Spare parts management becomes more challenging as soon as electrical or electronic components are installed in a product. Petra Müller-Keller, responsible as lead buyer for control electronics in Group Purchasing, explains: "We constantly keep an eye on which electronic components will soon no longer be manufactured by the semiconductor industry. This means that we can work out a succession solution in good time or make one final order."