Editorial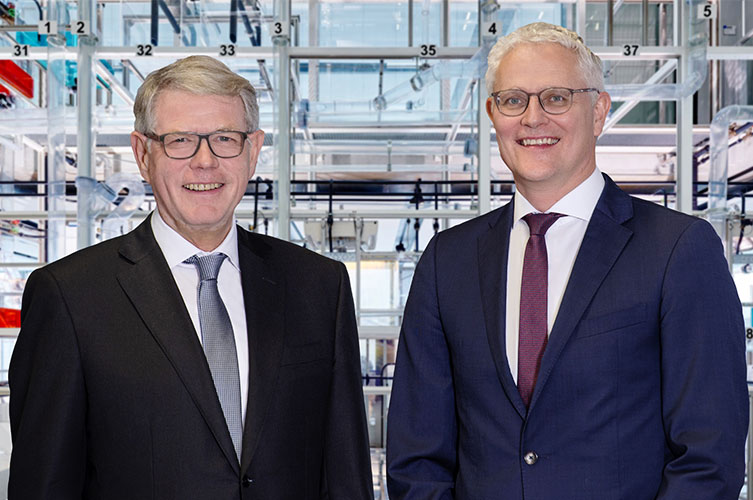 Dear shareholders,
An extremely challenging year is now behind us. The effects of the COVID-19-induced home improvement trend and the outbreak of war in Ukraine, as well as the sharp increase in inflation worldwide, led to strongly fluctuating volumes at Geberit during the course of the year. In turn, this placed some very high demands in terms of flexibility on Purchasing, Production, Logistics and Sales. Following an unprecedented rise, the costs of raw materials and energy reached new records in the reporting year, which put margins under enormous pressure. The higher prices for raw material and energy alone resulted in additional costs of CHF 244 million, with exchange rate developments also having an extremely negative impact on our results. Taking into account these challenging conditions and the records set in the previous year, we were nonetheless able to post good results in 2022. The comparison with pre-COVID results remains very positive, which is reference to our structural and financial strength as well as our prudent crisis management right from the start of the pandemic. This enabled us to further consolidate our position as leading supplier of sanitary products and gain market shares.
Currency-adjusted sales growth despite record highs of previous year
In 2022, net sales decreased by 2.0% to CHF 3,392 million. This slight decrease was due to negative currency effects of CHF 234 million. In local currencies, net sales growth was 4.8%. This growth was driven by strong sales price increases of around 9% and continued strong volume growth in the first half of the year. Volumes reached a new record level in the first half of the year due to the build-up of inventories at wholesalers as a result of the extraordinary price increases. In the second half of the year, volumes declined sharply. This was caused by the anticipated destocking of the excess wholesale inventory, and also by the end of the COVID-19-induced home improvement trend from previous years. However, the successful launches of new products and strong growth in emerging markets outside of Europe had a positive effect on volume growth. When compared with 2019 – and thus with net sales before the COVID-19 pandemic – strong growth after currency adjustments of 22% was seen across all regions.
Operating margins below record values from previous year
The massive increase in costs as well as currency developments had an extremely negative impact on results on all levels in 2022. Operating cashflow (EBITDA) decreased by 15.0% to CHF 909 million, which corresponds to an EBITDA margin of 26.8% (previous year 30.9%). In the reporting year, the currency-adjusted prices for raw materials and energy rose by 19% and 101%, respectively, compared to the previous year. Due to the multi-level distribution channel seen in the sanitary industry, adjustments to the sales price can only be implemented with a delay, meaning it was not yet possible to fully offset the higher raw material and energy prices in 2022. Tariff-related increases in personnel expenses, additional investments in digitalisation and unfavourable currency developments also had a negative impact on operating margins.
The decline in the operating result, a financial result practically in line with the level seen in the previous year and a significantly lower tax rate due to a positive one-off effect led to a less than proportional decrease in net income of 6.5% to CHF 706 million. This corresponds to a return on net sales of 20.8% (previous year 21.8%). The accelerated share buyback programme had a positive effect on earnings per share, which only decreased by 4.0% to CHF 20.48 (previous year CHF 21.34). In local currencies, earnings per share increased by 4.7%.
Free cashflow decreased by 30.6% to CHF 562 million, which was primarily due to the lower operating cashflow, negative effects from the changes in net working capital and the extremely negative currency effect. The free cashflow margin reached 16.6% (previous year 23.4%).
Diverse face-to-face and digital marketing and sales activities
After the restrictions enforced as a result of the pandemic in the two previous years, there was a huge desire for personal exchanges in the sanitary industry. Fortunately, many events such as trade fairs, training courses and seminars were again able to take place in the reporting year. Our sales representatives were also able to intensify personal visits to customers again.
In 2022, we were able to provide around 48,000 professionals with face-to-face training on products, tools, software tools and installation skills at the 30 Geberit Information Centres in Europe and overseas. This means that the number of participants recorded is above the pre-pandemic level. At the same time, counter days and local and digital events were organised in numerous markets – often together with wholesalers – to train craftsmen on new products. More than 75,000 customers took part in such events, of which 3,000 in digital formats. Web-based seminars and training courses now occupy a firm and important place in Geberit's training offer. 19,000 people took part in the past year.
Our professional customers are offered support in their daily work that meets their needs as much as possible with digital tools. Over 20 applications are now available for assisting professionals in the planning and calculation of sanitary installations or in the commissioning and maintenance of devices. In the reporting year, the focus was on making these applications available in additional Geberit markets. End users can find inspiration for their bathroom design using apps such as the Washplace Configurator, 3D bathroom planner or virtual showrooms for actuator plates. These tools are now in use in 30 markets.
In project business, there is a focus on the strongly developed support in the area of BIM (Building Information Modelling) – a digital, interdisciplinary planning method for optimising the entire planning and building process. Architects, sanitary engineers and building owners use BIM to share information efficiently. This helps them to avoid planning errors and improve productivity, which brings advantages in major construction projects in particular. For a number of years now, we have been providing BIM users with support in the form of product data and calculation modules. A special plug-in is available for the Autodesk Revit planning software, which combines all Geberit BIM tools in one central application and enables direct access to 3D models and planning parameters that are always kept up to date. So far, the plug-in has been downloaded by more than 8,000 planning and engineering companies worldwide.
New products for our markets worldwide
In 2022, we once again expanded our product range, launching numerous new products on the market. These included a new dual-flush unit, that makes a significant contribution to saving water, with optimal flushing out of the WC ceramic appliance achieved with only a minimal flush volume. Then there is the new shower toilet Geberit AquaClean Cama, an inexpensive basic model which is primarily intended for use in rental apartments and was introduced in Switzerland as part of a pilot project. The very successful introduction of the FlowFit piping system – the new benchmark in drinking water and heating applications – was continued with launches in additional markets.
In order to protect our know-how, we applied for 27 patents in the reporting year – and a total of 180 patents over the past five years.
Realisation of major projects while also at full capacity in production and logistics
High volume fluctuations and bottlenecks in the procurement of raw materials and semi-finished goods meant that the production and logistics networks were constantly faced with new challenges. Our employees once more demonstrated high levels of performance and flexibility. Until the summer, there were months of extra shifts at many sites to cope with the order load. In late summer, this situation reversed due to the reductions in inventories at wholesalers, which led to declining volumes. Despite these uncertainties, productivity in the production network increased by +2.1%. This was again achieved with numerous measures and projects that optimised the efficiency of production processes and improved energy and material efficiency.
In ceramic production, the implementation of a specialisation strategy initiated in the previous year was continued. At the same time, the further automation of individual production processes was promoted. In the plants where plastic and metal are processed, numerous investment projects were promoted to build up the additional capacities needed in the medium and long term in good time and to further improve the efficiency of the processes.
Environmental performance significantly improved again – substantial reduction in CO2 emissions
The absolute environmental impact of the Geberit Group decreased in 2022 by 17.1%; this with an increase in currency-adjusted net sales in the same period of 4.8%. The environmental impact in relation to currency-adjusted net sales (eco-efficiency) therefore even decreased by 20.9%. Since the integration of the energy-intensive ceramics production in 2015, eco-efficiency has improved by 56.8%. As regards the long-term target, which is based on an average improvement of 5% per year, Geberit therefore remains very well on course.
Compared to the previous year, absolute CO2 emissions fell substantially by 18.1% to 150,591 tonnes. In relation to currency-adjusted net sales, CO2 emissions decreased by 21.9%. As a result, the medium-term target set as part of the CO2 strategy of reducing CO2 emissions by 5% per year was clearly exceeded. Since 2015, Geberit has been able to reduce CO2 emissions in relation to currency-adjusted net sales (CO2 intensity) by 56.4%.
Geberit again awarded platinum rating by EcoVadis
EcoVadis awarded us the platinum rating for our sustainability management for the third time running in 2022. It is the highest possible rating awarded following the annual evaluation. Geberit thus finds itself again in the top one percent of rated companies. EcoVadis is one of the world's largest providers of business sustainability ratings and has created a global network of over 100,000 companies in around 175 countries. The comprehensive analysis takes into account 21 criteria in the areas Environment, Labour & Human Rights, Ethics and Sustainable Procurement, and contributes towards ensuring transparency in sustainability performance of the companies. The top rating again shows both customers and suppliers that we have a comprehensive, systematic sustainability management in place.
ESG governance
The responsible and future-oriented corporate governance strengthens the resilience of our business model and thus the long-term value creation of Geberit. All positions involved in the sustainability strategy and its implementation, with the corresponding tasks and responsibilities, are clearly defined; ultimate responsibility lies with the Board of Directors (see also ESG governance).
New CO2 strategy launched
As the Geberit Group, we stand for an ambitious and implementation-oriented approach in our activities. As announced in the Annual Report 2021, we launched a new CO2 strategy in the reporting year. The central element is the integration of the CO2 strategy in all relevant business processes as well as the handling of CO2 emissions as external costs by means of internal CO2 pricing. With the new CO2 strategy, our medium-term goal is a CO2 reduction of 5% per year compared to currency-adjusted net sales, which would correspond to an 80% reduction in relative CO2 emissions by 2035 compared to the reference year 2015.
Focus on water consumption
Sparing, careful use of water as a valuable resource is one of our core areas of focus. The consistent focus on reducing water consumption both in production and in the product use phase plays a pivotal role in our contribution to sustainable development.
In the reporting year, water consumption in production totalled 908,407 m3 (previous year 925,230 m3). In comparison with 2015, the year that saw the integration of the ceramics business, water consumption fell by 22.4%. Geberit consistently applies measures to successively reduce water consumption. In particular, this includes measures such as reusing water in laboratories and the production process. At around 80%, ceramic production accounts for the biggest share of water consumption. Since 2015, we have achieved savings of 10.9% here. By 2024, water consumption should be reduced to 5.6 l/kg.
With eco-design, the products are also checked and improved with regard to water consumption. Our innovative sanitary products thus help to systematically optimise water consumption in buildings. According to a model calculation, water consumption for toilet flushing, for example, has decreased since 1952 by around 80% from 70 litres to 14 litres per person per day thanks to several innovations such as Geberit dual-flush and flush-stop cisterns.
Circular economy and longevity
The aim of the circular economy is to operate an economic cycle in the most resource and environmentally friendly way possible. The service life of a product plays an important role here. The longer a product can be used, the lower the resource input per use. One of Geberit's key contributions to the circular economy is therefore to achieve the longest possible product life thanks to high-quality materials and strict quality requirements. Our products typically have a service life spanning several decades. The service life often exceeds 50 years, for example in the case of plastic drainage pipes. An important contribution to the longevity of Geberit products and systems is that a significant proportion of the product range also has a guaranteed spare parts availability of 25 years. From 2023, spare parts availability will be extended and increased from 25 to 50 years for concealed cisterns, and a lifetime guarantee will now be provided for ceramic products. Furthermore, many of our products can be cleaned, maintained and repaired easily. The fact that new products and innovations are backwards-compatible – for example in the case of actuator plates – is also an important contribution to a longer service life of a previously installed product.
Information technology
At Geberit, we are continually working to improve our IT security. This includes taking defensive measures against cyberthreats as well as detecting and dealing with any cyberattacks efficiently. Extensive measures have been established in the interests of business continuity. Our IT systems undergo a comprehensive and detailed security check – including the ongoing assessment of newly emerging risks – involving the input of external specialists on a regular basis. The latest checks confirmed a good level of security. All in all, we are thus comparable to industrial companies of a similar size and complexity.
With the new SAP S/4HANA IT system, one of the biggest IT projects in the history of the company was successfully rolled out across the Group at the end of November 2022. SAP S/4HANA is a comprehensive, modular ERP software. Finance, Purchasing, Production and Logistics all rely on this software for communication, production and exchanging data.
Continued attractive distribution policy
The Geberit share price started the trading year 2022 at CHF 745.20. During the year, the share price saw a sharp decline as part of a general valuation adjustment and reached its lowest point of CHF 410.50 at the start of November. The share price then recovered slightly until the end of the year and closed the trading year at CHF 435.50, corresponding to a decrease of 41.6%. In the same period, the Swiss Market Index (SMI) posted losses of 16.7%. Viewed over the past five years, the Geberit share posted an annual average increase of 0.3% (SMI +2.7%). Since going public in 1999 (IPO), the average annual increase was +11.0% (SMI +1.7%). As in previous years, we will maintain the attractive distribution policy. Therefore, we will propose to the General Meeting an increase in the dividend of 0.8% to CHF 12.60. The payout ratio of 61.8% of net income is in the mid-range of the 50% to 70% corridor defined by the Board of Directors.
In 2022, we distributed CHF 433 million to shareholders as part of the dividend payment. Following the conclusion of the share buyback programme 2020–2022 on 16 June 2022, a new share buyback programme was launched on 20 June 2022. In the reporting year, a total of around 1,109,000 shares were acquired at a sum of CHF 570 million. As a result, we distributed CHF 1,003 million, or 178% of the free cashflow, to shareholders as part of the dividend payment and the share buyback programme in the reporting year, which equates to a good 6% of Geberit's market capitalisation as of 31 December 2022. Over the last five years, around CHF 3.1 billion has been paid out to shareholders in the form of distributions or share buybacks, which corresponds to 95.0% of the free cashflow in this period.
Changes in the Group Executive Board
The Board of Directors appointed Tobias Knechtle as the new Head of Group Executive Area Finance (CFO) and as a member of the Group Executive Board with effect from 1 January 2022. Tobias Knechtle joined the company on 1 November 2021 and replaced Roland Iff, who retired at the end of 2021 following 17 years as CFO at Geberit.
Furthermore, the two Group Executive Areas Operations and Products were separated as of 1 October 2022 in order to be even better equipped to deal with future requirements and challenges in these two areas. Since then, Martin Ziegler (former Head of Products & Operations) has headed up the Group Executive Area Operations. With effect from 1 October 2022, the Board of Directors of Geberit AG appointed Andreas Lange – former Group Quality Manager and with Geberit for ten years – as Head of the Group Executive Area Products and as a member of the Group Executive Board.
Sincere gratitude
Our customers again deserve special thanks for their trust and constructive collaboration. Taking into account the very challenging environment, we owe the good results in the reporting year to the high degree of motivation, commitment and flexibility of our employees. We wish to express our thanks and appreciation to them. Last but not least, we also wish to express our gratitude to you, esteemed shareholders, for your continued great trust in our company.
Outlook for the year 2023
As a result of the ongoing geopolitical uncertainties and macroeconomic risks, it is very difficult to provide an outlook. All in all, a challenging environment is expected for the construction industry in 2023. The specific challenges for the sanitary industry result from the following:
Potential aftereffects of pull-forward effects from the COVID-19-induced home improvement trend of recent years.
Record-breaking inflation and higher interest rates.
The temporary shift from sanitary to heating solutions – primarily heat pumps – in some European countries.
Positive influencing factors for the sanitary industry are as follows:
The fundamental demand for renovations and new buildings in residential construction in various European markets, for example Germany.
The structural trend towards higher sanitary standards.
The positive market environment in several countries outside Europe, such as India or the Gulf Region, for example.
Given the extremely challenging market environment, Management has defined two guiding principles for 2023 – namely strategic stability and operational flexibility. The objective here is to overcome the uncertainties related to volume development without affecting Geberit's potential in the medium term. Short-term challenges in relation to volumes are primarily the result of the still remaining – but significantly reduced – excess inventories in warehouses at wholesalers. Regardless of the prevailing market environment, the primary objective in the coming year is again to perform strongly in all markets and, as in previous years, to gain further market shares. To this end, significant contributions will be made by new products introduced in recent years, the focus on markets in which Geberit products or technologies are still under-represented, and the further expansion of the shower toilet business. In line with the Geberit strategy, these measures shall be accompanied by efforts to continuously optimise business processes in order to be able to achieve continued high margins and a strong free cashflow also in 2023. Based on the strong foundation already built up over the past decades, the sustainability performance should continue to improve.
Both the Board of Directors and the Group Executive Board are convinced that the Geberit Group is very well equipped and positioned to meet current and upcoming opportunities and challenges. The possibilities offered as a result of combining technical know-how in sanitary technology "behind the wall" and design expertise "in front of the wall" will continue to be firmly seized. In 2023, a focal point will again be the continued implementation of the digitalisation strategy. Experienced and highly motivated employees, a number of promising products that have been launched in recent years and product ideas for the more distant future, a lean and market-oriented organisation, an established cooperation based on trust with the market partners in both commerce and trade, and the Group's continued solid financial foundation are vital to our future success.
Despite the significant uncertainties, Management's high level of confidence in the strong constitution of the Geberit Group is reflected in the very high distributions to shareholders in 2022, which totalled approximately CHF 1 billion and equated to a good 6% of Geberit's market capitalisation as of 31 December 2022. Management is convinced that it can continue to achieve its medium-term targets of average annual net sales growth in local currencies of 4% to 6% and an average EBITDA margin of 28% to 30% in future.

Yours sincerely,
Albert M. Baehny
Chairman of the Board of Directors
Christian Buhl
CEO