Close the curtain – it's getting colourful!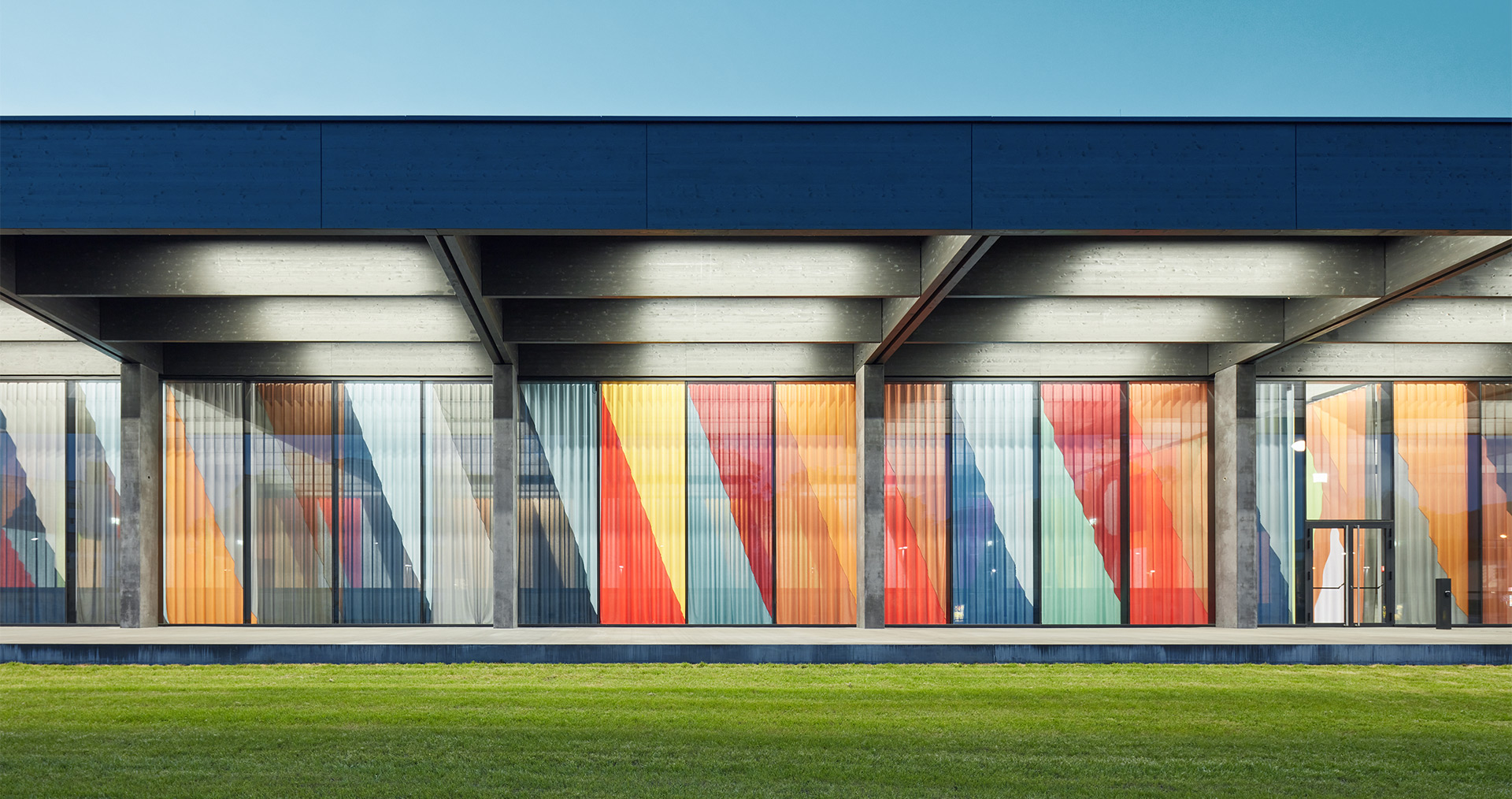 Concrete and glass, fabric and colours – these are the ingredients that have been mixed together to form Kepler Hall, an unusual building in the Austrian university city of Linz.
Kepler Hall, Linz (AT)
Building owner: Bundesimmobiliengesellschaft BIG
Architects: Riepl Riepl Architekten ZT GmbH
Opening: 2020
Geberit know-how:
Pluvia roof drainage system
PE drainage system
Sigma concealed cistern 12 cm
Sigma10 and Sigma30 actuator plates
Type 01 urinal flush controls
There is room for everything here under the cantilevered flat roof, including an auditorium, a welcome centre, a sports hall, a concert hall and a fitness centre. And yet the term multipurpose hall falls short. Kepler Hall sees itself as the entry point to the campus of Johannes Kepler University Linz in Austria. Since 2020, the new building covering a total area of 3,000 sqm has served as a welcome and event centre for students and the local population.
Minimalist form
Architecturally, the building impresses with its strict minimalism. The underground level is built in solid construction, while the above-ground levels are built in steel and with a wood and glass facade. The roof, which cantilevers widely on all sides and is drained by the Geberit Pluvia roof drainage system, provides protection from the elements during open-air events.
Colourful textile art
Despite its minimalist architecture, Kepler Hall retains a sense of light-heartedness. This is also thanks to the textile installation by Viennese artist Gilbert Bretterbauer. For each side of the building – one glass facade each – he created different fabric panels with geometric colour patterns. The textile artist uses 25 different colour shades for these unique curtains and combines them over a length of 800 metres to create an "inner facade" in the building. As a counterpoint to the austere architecture of the building, this fabric inner facade gives the building a playful touch. As it is changeable, it alludes to what this educational institution is all about – living a bright and colourful life.